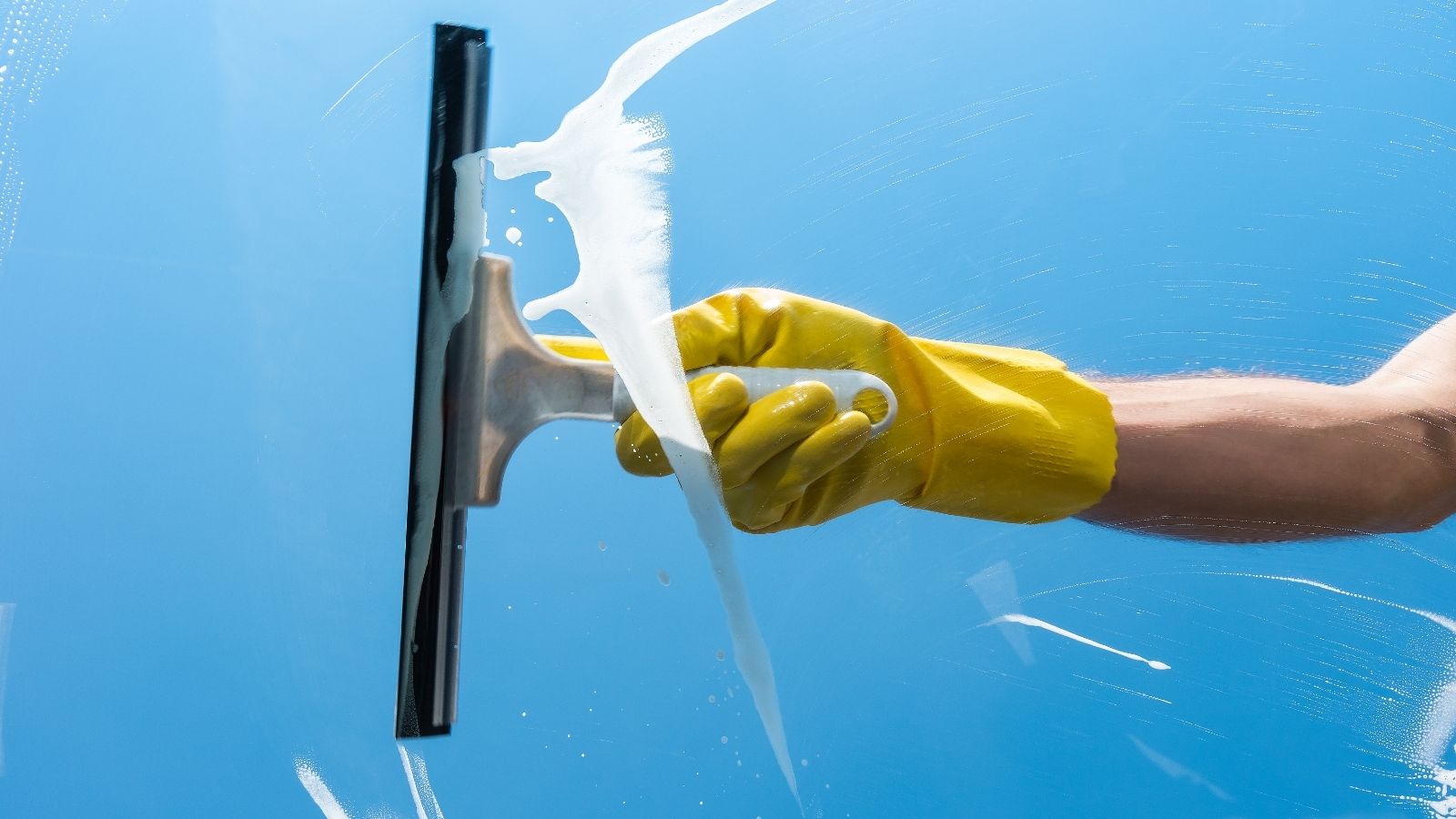 Frequently cleaning windows is essential, if you want the space, they belong to feel fresh and tidy. Clean environments can boost the morale of the people exposed to the area for many hours a day. It's important at home and even more in the office, influencing the levels of happiness of people using the space. A 2015 study found that happier employees are 12 percent more productive, while unhappy employees are 10 percent less productive.Here's what you should know before you start to clean your windows. Read and clean like a pro!
Cleaning windows – best practices
The most popular way to keep shiny windows without streaks is to use a glass cleaner and optionally: paper towels, a cloth, or a rubber squeegee for windows. You can also use a modern window vacuum cleaner. Thoroughly wiping the window should be enough. However, the final effect depends on the quality of the liquid, not all clean the glass equally well and it is worth remembering.
Instead of buying window cleaner, you can use the washing-up liquid present in every home. Dissolve a small amount in a bowl of warm water and wipe the windows wet and then dry. It is thanks to thorough dry wiping that there are no streaks on the windows.
Eco method for those who do not like to use household chemicals – a microfiber cloth and a bowl of water. Microfiber, thanks to its unique structure, can handle the most stubborn dirt and grease without detergents, which sometimes appear on windows. As in the case of washing with washing-up liquid, there are two stages here – wet cleaning and dry wiping.
A solution of lemon juice and water is an ecological way to keep windows shiny – half a glass of juice for a glass of water. Windows washed in such a way will not only sparkle but will also give the interior a pleasant – fresh smell.
2 teaspoons of vinegar per glass of water is another eco-friendly way to clean windows. Contrary to common fears, vinegar will not create an unbearable smell in your home. The vinegar winds down quickly and its smell will disappear after a dozen or so minutes. It is worth reaching for vinegar if the windows have not been washed for a long time.
Very dirty windows need something extra to get properly cleaned. To dissolve difficult dirt, coat the window with linseed oil and leave it for one hour. Then wash the window with a glass cleaner or washing-up liquid.
An express solution is to use wet wipes for cleaning windows. Just wipe the window and let it dry. Works well with moderately dirty windows.
Car owners certainly have washer fluid in stock. It can also be used for cleaning windows. Washer fluids are great at dealing with big-city dust, as well as traces of encounters with insects. They are equally good at washing dirt and dust from domestic windows. Their unquestionable advantage is that they give the windows the properties of car windows – dust settles more slowly and water flows down without stopping on the windows.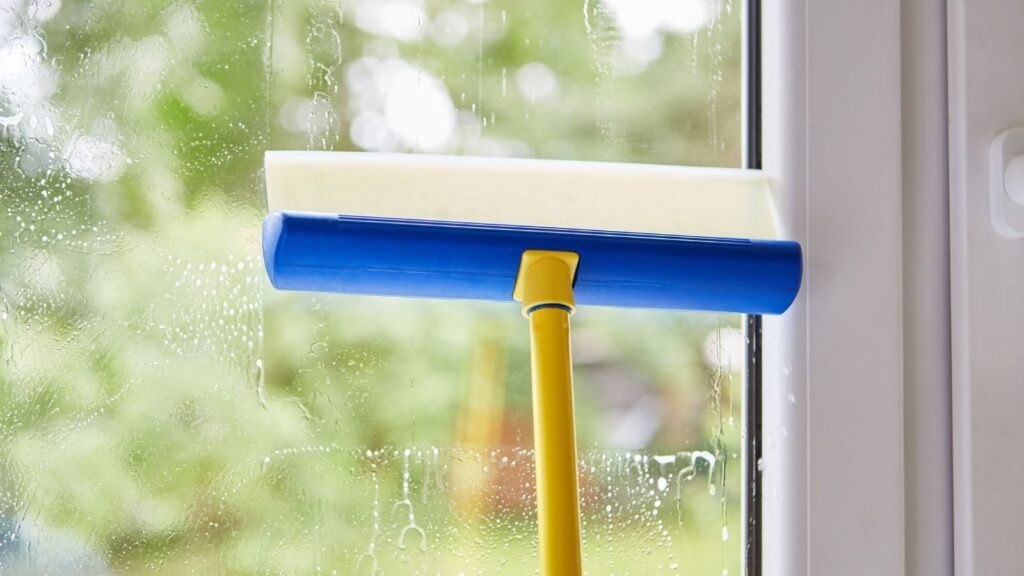 Window cleaning: what should you avoid?
Cleaning windows on sunny and warm days. Although it seems like the perfect occasion, because you can see every speck on the window on a sunny day, the sun is not an ally in the fight for clean windows. The reason is simple – under the influence of the sun, the liquids used evaporate faster, and it could be harder to wipe the windows dry – this will create ugly streaks, which are difficult to remove.
Cleaning windows during frosts and severe frosts. On such days, the glass becomes more delicate and fragile. All it takes is a careless movement, pressing the cloth harder and the glass may break.
Wiping the windows dry before cleaning. Even if they seem very dusty and ask to be wiped with even a paper towel, under no circumstances should you do it. Sometimes small invisible particles that have settled on the window may permanently scratch the glass during such wiping.
Contrary to appearances, washing windows is exhausting work. It is not light or relaxing. Therefore, it is a mistake to start cleaning windows after a hard day at work or when you are in a low condition and mood. For windows to be really clean and shiny, it takes more than wiping them several times with a cloth.
Beginning window cleaning with glass cleaning. If you do so, after washing the frames, you will have to wash the windows again. First, wash the frames, then the glass panes, and finally the window sill.
How to polish windows?
Washing alone is not enough. In order for the windows to be perfectly shiny, it is worth polishing them. This is done first from top to bottom, then side to side. This sequence guarantees not only shining but also the absence of streaks.
For polishing windows, it is best to use:
Tights – preferably torn, which are no longer suitable for anything else.
Baby T-shirt or cotton T-shirts. They are soft, made of high-quality materials, perfectly absorb moisture, and leave no streaks.
Newspapers, but not colored ones. Regular newspapers are best suited for polishing windows, as they easily absorb water. Before starting work, it is best to fold the newspaper into a large ball and hide all the edges inside.
Fabric softener. Pour a small amount into a bowl with water, wipe the windows and wipe dry. Such liquid has an antistatic effect, so no dust will settle on the glass, at least for a while. How to wash window frames? Window frames can be washed in the same way as windows but depending on the material.
If you're not too fond of doing this on your own, consider hiring professional help. You may as well go for a Naked Cleaner service and enjoy the view.
Latests Posts