Having a balcony attached to your home is a wonderful feeling, especially in the middle of a warm spring. Being able to step out into the fresh air in the morning and look out over your city, town or village is a great start to the day. However, a messy balcony can have the opposite effect. Not only is it good for the aesthetics of your home to keep a nice, clean, tidy balcony, but it can also stop pests like rats, bugs, and pigeons from using your balcony regularly. If you find it difficult, don't hesitate to get support with your cleaning from a pro – and if you are into it – consider hiring a naked cleaner (bearing in mind not all services can be done in the nude while working outside). Read below to check out our top tips for keeping your balcony clean and tidy.
Make Life Easier Right Away
First of all, check for safety – you do not want to get out on a balcony that you are not sure is safe for you. If you see the floor absorbing a lot of rain and not letting it out – you're safe bet is something has to be wrong. Cleaning can be a difficult enough task, without making life any harder for yourself. Anything on the balcony that isn't important and can be moved easily, make sure it goes somewhere else for now. Plant pots, chairs, tables, and laundry will all get in your way, especially in an area as small as the average balcony, so put them out of the way so you can clean without interruptions. Many people use their balconies as spare storage, so get rid of anything not essential first.
Sweeping the balcony
You can start cleaning up your balcony once everything has been removed from it. Sweeping the floors is the first thing to do when cleaning, although dust, leaves, and other waste can be hard to see, a clean balcony starts with a floor that is completely free of debris. Bird feathers, leaves, dead bugs, and even litter (if you live closer to the ground) can make your balcony look messy, so get rid of these before you start cleaning).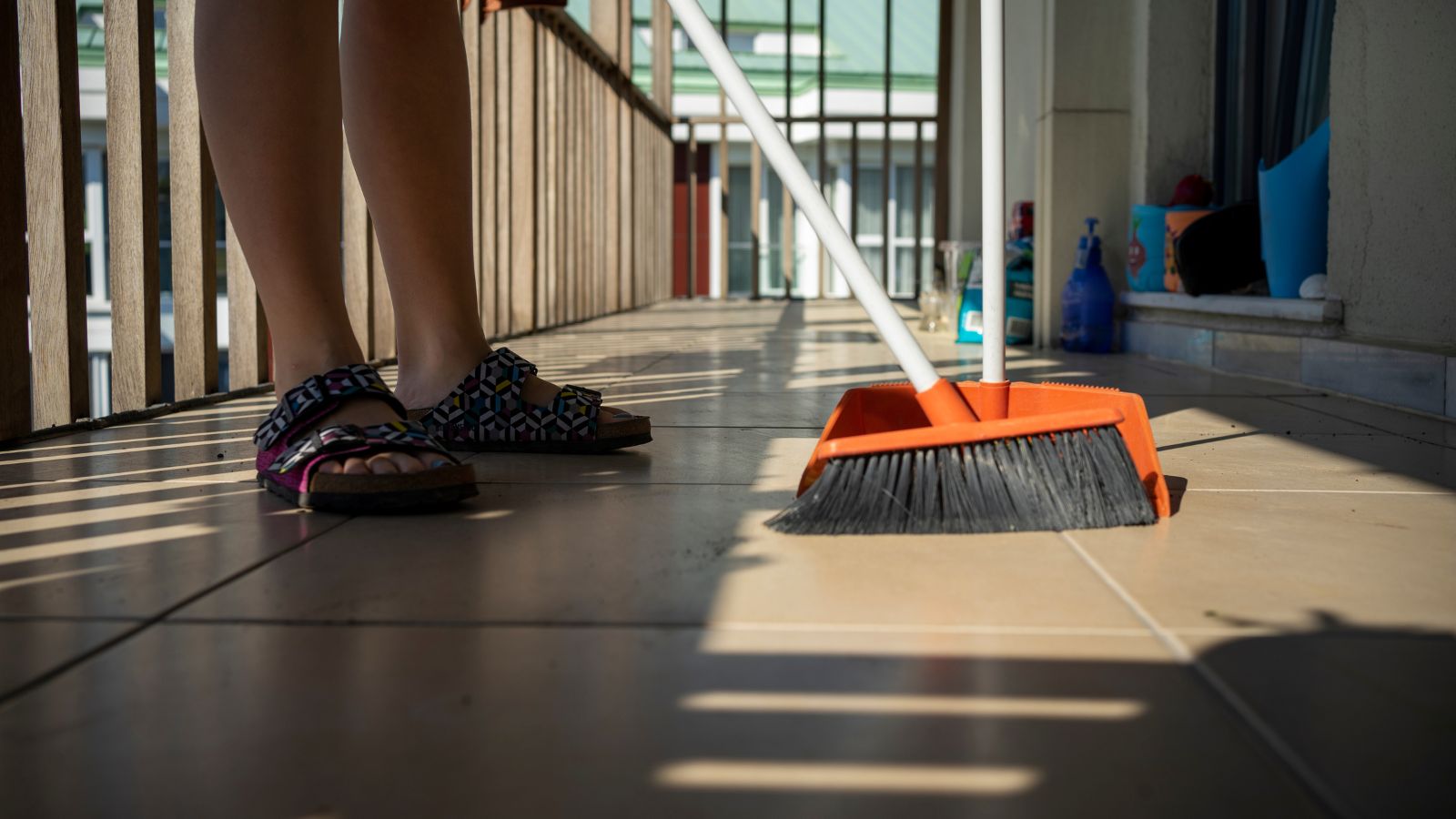 Cleaning The Railings
Birds landing, mucky handprints, and cobwebs, the railings will be one of the dirtiest places on your balcony, so we highly recommend starting with your railings, so that when the dirty/soapy water drips onto the floor, it's not dripping onto a freshly cleaned floor! It does depend on the material when it comes to cleaning balcony railings, so make sure if you have a specific metal/material, you use the correct tools so you don't damage them. Using dish soap and water along with a toothbrush or other tiny brush, you may clean metal railings. To dry it, clean it with a clean microfiber cloth so you don't leave scratches.
Cleaning Glass
Whether it's windows, doors, or even a glass floor, the same approach is used to clean most types of glass surfaces. Firstly, remove any dirt, grime, and filth by using dish soap and warm water to thoroughly clean the area. Wipe the area away with clean water to get rid of any excess soap or leftover dirt, then use diluted white vinegar and a microfiber cloth to carefully clean the glass surfaces. When the glass looks completely clean, polish the marks entirely using circular motions so you don't leave streak marks.
Dealing With Rust
Moisture on metal can cause rust to develop around balcony railings, doors, and any other metal surfaces you might have on your balcony, especially as they're exposed to the elements 24/7. Outdoor metal surfaces are prone to developing rust stains, especially during humid summer or fall months, and even more so during winter months when the snow doesn't melt fully. Applying laundry detergent to rust stains will help you get rid of them. Use a sponge to apply the detergent, let it set for about an hour, and then scrub it clean with warm water.
Deep Cleaning the Floor
If you're lucky enough to have access to a pressure washer, it is advisable to use one to remove pollen from your balcony as well as even the most suborn dust, rust, leaf, and oil stains. It is the simplest and most efficient way to clean any patio, balcony, or terrace. If you don't have one, that's okay. You can still do just as well, but it might take a little more elbow grease! If you can use a hose, this is also just as helpful, but again, it can be done without it.
Add a few drops of dishwashing soap to a big bucket once it has been filled with hot water. In the soapy water, wet the mop, and then thoroughly wring it out. Clean the balcony by beginning in one corner and moving across, changing the water as required. After the floor has been thoroughly and deeply cleaned, make sure to give the balcony a last rinse with clean water after using detergents, acids, and bleach and wiping them off. If you don't wash all of these chemicals away, a build-up of residue and further stains may result from leaving acids or detergents in place. Your best bet for completely cleaning your balcony is to use warm water (but of course be aware of high temperatures)
Be Courteous of Any Neighbours Below
Of course, if you're on the first floor this is unlikely to be an issue, but if you have neighbours directly beneath you, definitely be aware that your cleaning may be an issue for them. If you're sweeping dirt, dust, and leaves off of your balcony, be sure to collect them right away rather than just sweeping them directly off the balcony as they may land on your neighbours balcony, or even blow into their home on a windy day. The same goes for using water, the last thing you want is to soak them below, so maybe a courtesy knock to let them know you'll be cleaning is worth it, or just be mindful of the amount of water you're using.
So there you have it. A clean balcony gives you a place to hang out, take in the sights, and soak in the sunlight and fresh air when the weather is nice.
Interested in more tips – our blog is made of these – dive in now and check for yourself.